Make the University District your destination for outdoor dining experiences and more!
Summer Streets: U District has launched to welcome people back to the U District with a series of new opportunities to enjoy the summer with outdoor dining, pedestrianized streets, programming and farmers' market. Across Seattle's most vibrant neighborhood, celebrated restaurants, bars, shops and organizations in the U District have joined together to provide fun and socially-distanced dining and shopping experiences. To view the outdoor dining guide click here.
---
VISIT THE 43RD STREET OUTDOOR DINING PLAZA
---

Get out, grab a bite, and enjoy the sunshine at our new outdoor dining plaza located at NE 43rd Street and University Way NE! Powered by The U District Partnership and participating businesses, this summer activation invites all to enjoy great eats and drinks on the newly renovated NE 43rd Street.
Special thanks to Sweet Alchemy, Samir's, Kai's, Flower's, Cedars, Wann Yen, Ugly Mug, and Crossroads Trading for their joint effort in making this community plaza possible – and the UW for supplying the paint and the labor to paint the tables for the 43rd Street Plaza.
---
EXPLORE NEW HEIGHTS
AND UNIQUE OUTDOOR DINING DESTINATIONS
---

With the help of the U District Partnership and community volunteers, over 30 businesses across the U District have added outdoor dining patios to their operations, bringing streets back to life across the district, from "the Ave" to Roosevelt and Brooklyn. U District restaurants going al fresco include brunch classics like Portage Bay Cafe to staple drinking establishments on the Ave like Big Time Brewing and Flowers Cafe. Pre-pandemic newcomers are also participating, including the Mountaineering Club which boasts classic cocktails with a panoramic view of Seattle from it's 16 story roof deck.
View the list and map below: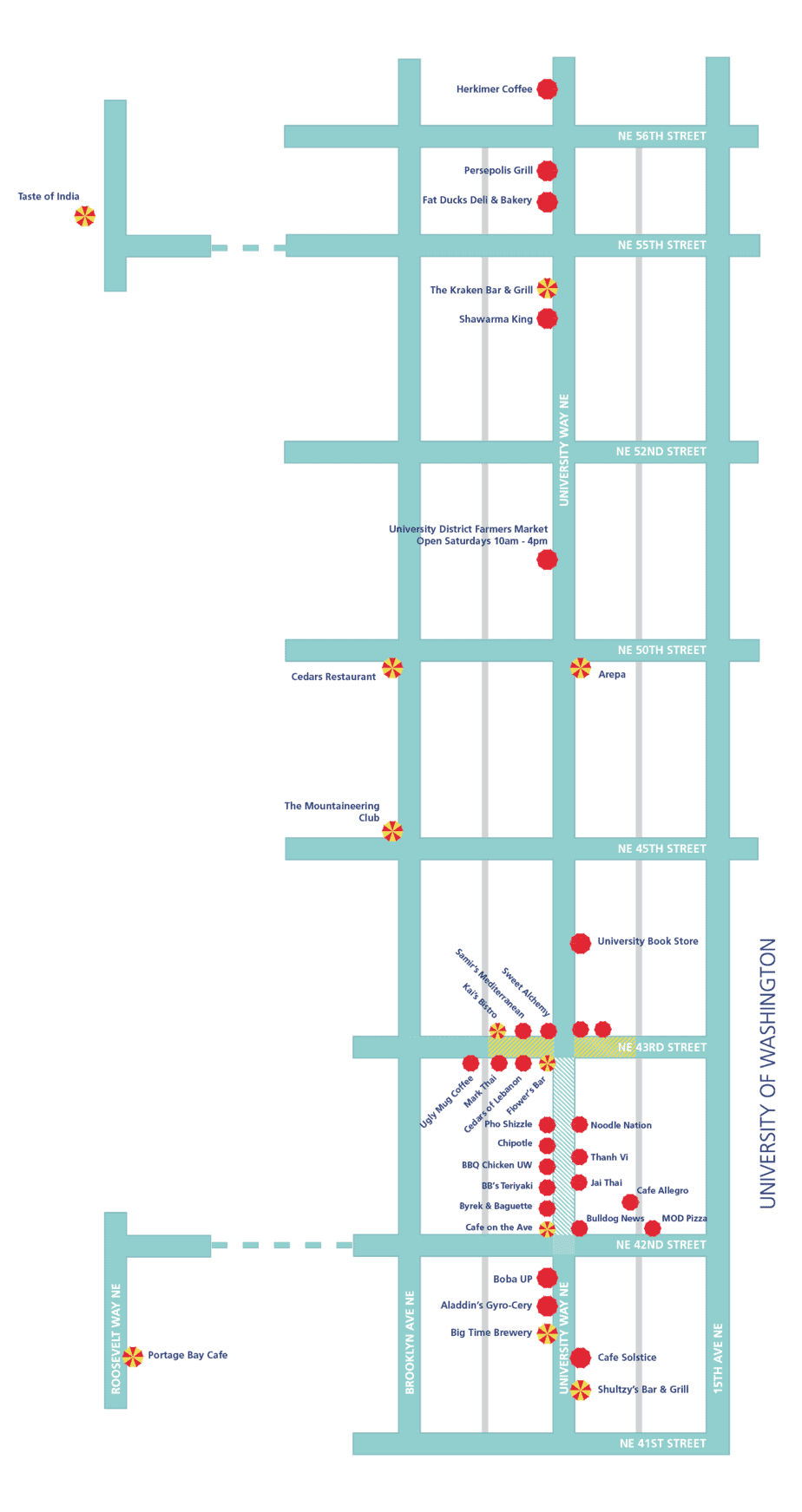 ---
COFFEE SHOPS & CAFES:
---
---
DINING & DRINKING:
---
* Restaurant that serve alcohol
---
EXPERIENCE LOCAL AT THE U DISTRICT FARMERS MARKET
---

Take a stroll through one of Seattle's only year-round farners markets – sourcing local fruits and vegetables from the Puget Sound and Yakima Valley. Conveniently situated between 50th and 52nd Streets on University Way. The University District Farmers Market is open every Saturday 9am-2pm year-round. Seasonal delights include fresh Rainier cherries, SnoValley mushrooms, Samish Bay cheeses, Loki Fish salmon, and so much more.
More information here.
---
ENJOY UPCOMING EVENTS AT UNIVERSITY HEIGHTS
---

Outdoor Zumba, kid-friendly origami, and so much more. Experience all of the events, activities, and educational opportunities UHeights has to offer. Register today by clicking here.
Know someone in need? UHeights offers free meals, hygiene services, a community fridge, street medicine, and other services to help. Learn more by clicking here.